As with Only Girl Alive, Lost Little Angels has many threads of truth. The idea for the series began when I read about a federal judge ordering oversight for law enforcement in the Hildale, Utah area due to decades of corruption. I knew what book 2 would be about when I read a true account of a woman who escaped the FLDS (Fundamentalist Latter-day Saint) community. Before she managed to escape, she was held in a small travel trailer with very little food and water and only a cell phone. She had to check in every fifteen minutes or she was punished by withholding the food and water. This was known as isolation. Because of the absolute control since infancy, she didn't know another phone number to call only that 911 connected her with the corrupt policemen who also belonged to the cult. The seed for Lost Little Angels was planted in my brain and it grew from there.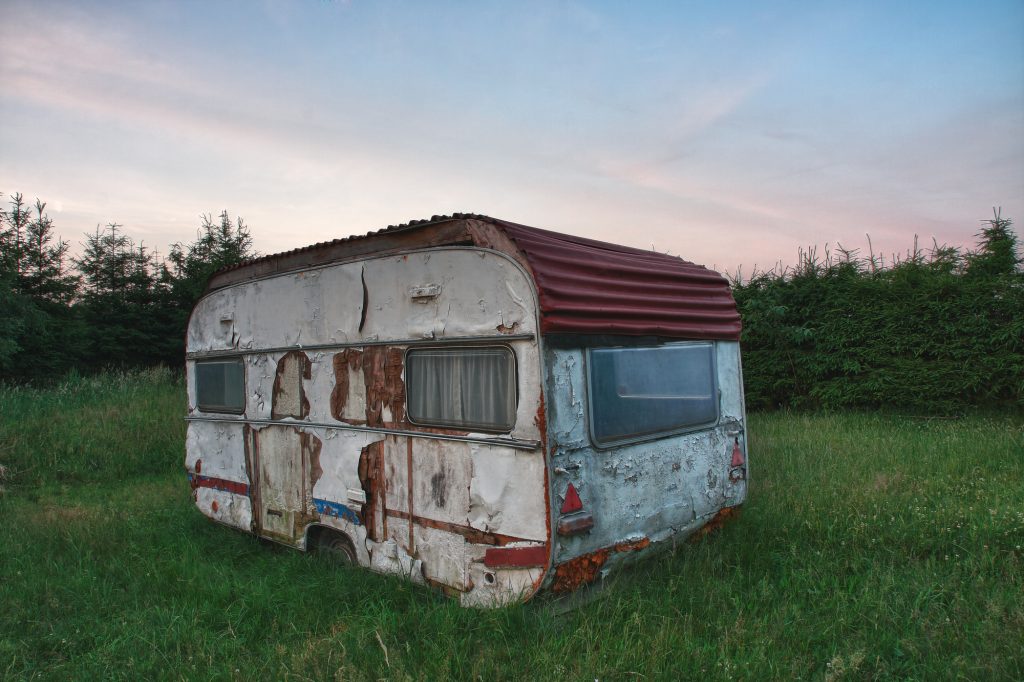 Old travel trailer photo, purchased via Deposit Photo credit to SlezakPatrik
In book 1, Detective Sergeant Eve Bennet's mother disappeared from her life when Eve was a child, leaving her in the hands of fundamentalist monsters. Eve often wondered why it took four years for her mother to rescue her but her mother refused to speak of it. In Lost Little Angels we discover the secrets her mother hid and the horrors women who disobey are put through in the cult.
Book 2 truthfully examines human nature and the unnatural dictates of Warren Jeffs while he's in prison for life, based on his prophetic warnings and outlawing marital sex. My thinking on this, which I also give to Eve's character, is if Jeffs can't have sex with his 60 plus wives, his male cult followers should suffer as he does. The caveat is he needs the men in power on the outside to continue doing his bidding and establishes them as seed bearers for "specifically designated" women to carry the seed of God's children. These men are the only ones granted the right to procreate and keep the bloodlines pure. The women are held down by their husbands while seed bearers have sex with them. This led me to another aspect of book 2 where a newborn baby is missing and Detective Eve Bennet and her team are called to find the child only to discover more babies, known as "children of sin" have disappeared.
"The women are held down by their husbands while seed bearers have sex with them."

Men unable to have sex with their multiple wives would be nearly impossible preposterous and is where human nature supersedes cult prophesy. I don't believe all these men would follow the new rules. So, what happens to the babies born outside Jeffs' dictates? We haven't heard a news story about these children but I think we eventually will. Like the graves in Babyland where innocent children with genetic disorders due to incest were possibly murdered and buried, what about the so called "children of sin" that have not been discovered? Is anyone even looking? I cannot fathom men going without sex when their multiple wives are brainwashed to do their bidding. And, like Babyland, will these children remain a mystery that no one wants to uncover because they should rest in peace? I find the entire concept questionable but so far I have found no trace of children being born by the FLDS members that go against Jeffs' prophecies.
I spend hours researching cults, not just the FLDS. The minds of the people caught up in unbelievable controlled deception fascinates and terrifies me. I'm grateful I'm able to share these thoughts with my readers. For those who want further reading, I've included links above to some of my research.
Holly Roberts is a retired sex crimes and homicide detective who worked several hours from Warren Jeffs' compound. She's a USA TODAY bestselling author of spicy romance but her passion is reading and writing thrillers. Her now defunct police blog won numerous awards including #1 Police Blog in the country and is now available in ebook and paperback, writing as Suzie Ivy. She lives high in the Arizona mountains with her husband and two spoiled dogs.