When I made an arrest, the booking sheet at the jail asked me to identify scars, marks, and tattoos on my suspect. I've often wondered why criminals mark themselves with identifying tats. This isn't a complaint, it made my job easier.

One such case involved multiple robberies over a six month period. Each victim gave a similar statement.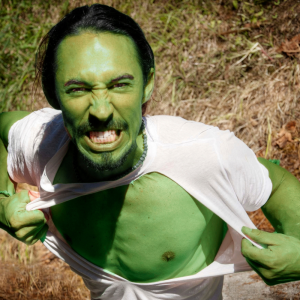 "He has a tattoo of the Hulk on his left cheek. It's green and huge."
He would place his hand in his jacket pocket and say he had a gun. No one recognized him as a local. He unsuccessfully tried to hide the tattoo from video surveillance.

I combed the State's criminal database for the Hulk tattoo and came up empty handed.

I put some feelers out to confidential informants and was given a connection to several known drug houses. I sat stakeout in my daughter's old Ford truck so I wasn't identified. My bladder hated stakeouts and unlike men, I had to leave and find a restroom. This meant absolutely no coffee which is your best friend during the middle of a long boring night when you're trying to stay awake. I'd take half a bottle of water so I didn't overhydrate. It sucked.

Long nights, no potty breaks, and dehydration put me in a bad mood. Never spotting Hulk made it worse. My CIs usually came through big time so I didn't doubt the information.
He struck again and irritation turned to anger.

I stopped the worthless stakeouts due to lack of sleep and a UTI.

Early one morning, a few weeks later, I had an interview with a woman who was assaulted by another woman in the grocery store parking lot. She had to be at work by 8 a.m. and wanted to meet at 7. It was a quick report and I decided to pick up coffee at the local convenience store after leaving her home. I was in my unmarked detective's unit and wore plain clothes with my badge and gun on my hip.

There was a man at the checkout counter buying cigarettes. He turned and I came face to face with Hulk. I drew my gun before his hand went to his pocket. I arrested him without incident and it was probably because his weapon was a six-inch long wooden dowel.

At the jail, I ran his license and criminal record. He was currently on probation, out of his county, and continuing his life of crime. The Hulk tattoo was a new addition. He was quite proud of it along with the large Superman emblem on his chest.

As a retired detective, the best thing you can do to help local police is tattoo your face and commit crime. I double dog dare you.

The Eve Bennet crime thrillers will release under Holly S Roberts. Stay tuned for more!